Backtest Results
I'm now going to test this trading system on the S&P 1500 universe using Amibroker and a hypothetical starting capital of $100,000.
Our data includes historical constituents and index members so there shouldn't be any survivorship-bias. This means our results won't be influenced by the exclusion of delisted or merged stocks because we are including those in our database. The database is also set up to include dividends and other corporate actions which could otherwise skew our results.
For our simulation, we are going to use trading costs of $0.01 per share to simulate commissions and slippage and we will avoid lookahead bias by trading on the weekly close and not the open.
As you will see from the following results and equity curve, running this simple trend following system on the S&P 1500 universe between 1/1/2000 and 1/1/2015 returned 12.80% annually with a maximum drawdown of -25.36%.
Our initial capital has grown to $609,806 and we recorded a win rate of 61%.
Net Return: 509.8%
Annual Return: 12.80%
Risk Adjusted Return: 17.26%
Maximum Drawdown: -25.36%
CAR/MDD: 0.50
Average Bars Held: 90.22
Win Rate: 60.91%
Profit Factor: 2.59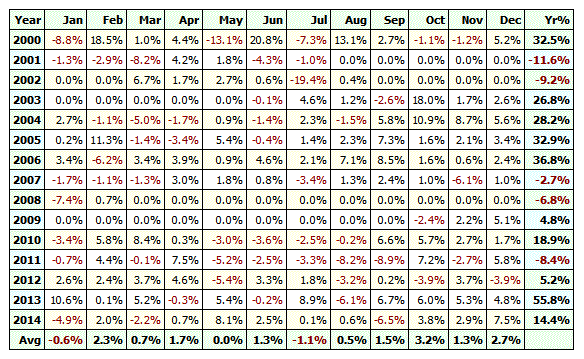 This compares to a buy and hold annual return of 4.26% with a drawdown of 55% on the SPY ETF.
Out-of-sample Results
Moving the dates forward we can now test the system on some out-of-sample data. This is data that is left out of the test environment so that we can better validate the system returns at a later point.
You will see that running the system between 1/1/2015 and 1/1/2017 we get an annualised returned of 12.74% with a maximum drawdown of -10.02% and a win rate of 62.16%.
Net Return: 27.1%
Annual Return: 12.74%
Risk Adjusted Return: 14.87%
Maximum Drawdown: -10.02%
CAR/MDD: 1.27
Average Bars Held: 74.76
Win Rate: 62.16%
Profit Factor: 2.48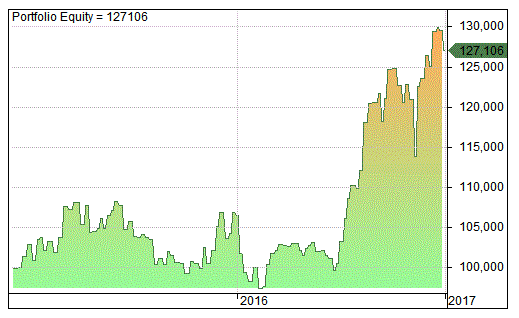 This compares to a buy and hold annual return on the SPY ETF of 6.52% with a drawdown of -13.02%.

Overall, these are pretty strong results for a system of this kind. We have beaten buy and hold and our annualised return has remained above 12% in our out-of-sample. We have also achieved a small drawdown and high win rate.
It should be noted that I first came up with this trading strategy in 2014 so these out-of-sample results can be thought of as true out-of-sample results. In other words, they are not simply a process of moving the test forward, they are results that occurred after the system was created. This lends more credibility to the strategy even if it still cannot guarantee future success.

What is most encouraging is that we have been able to navigate the painful bear markets of 2000-2002 and 2008 without enduring too much pain.
As of February 2018, the system has shown a net profit of 698% since 2000 while maintaining a win rate of over 60%. That is a very high win rate for a trend following strategy.
Meanwhile the S&P 500 has managed a net return of only 176% (5.79% annualised).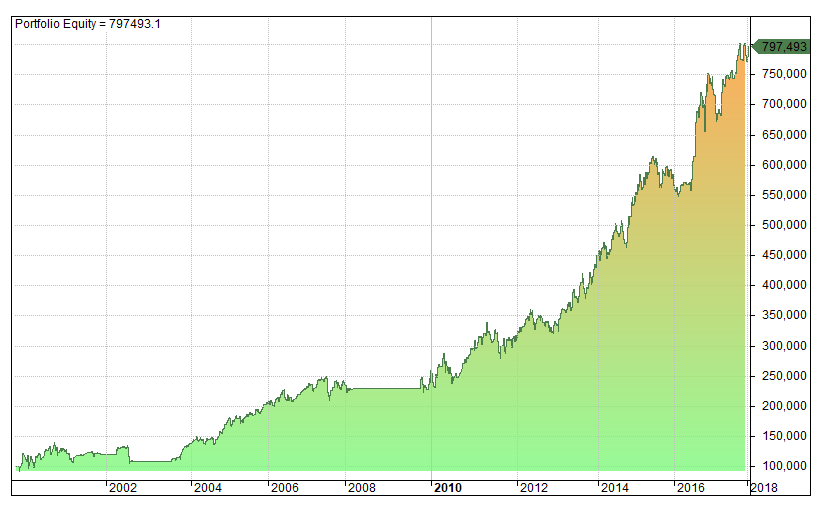 Conclusions & Observations
Overall, this simple trend following system shows some promise and we were able to beat the buy and hold benchmark of the S&P 500 ETF 'SPY'.
I created this system some time ago now but it still manages to perform fairly well and it picks out some nice winning trends in stocks.
The ranking mechanism helps us enter the strongest tickers and the market timing filter keeps us out the market when stocks are in decline.
Crucially, by calculating our signals early and entering our positions on the close we are able to move faster than other trend followers who wait for the next bar open.
A potential drawback of this system comes from the market timing filter itself and the use of static parameters. There is a risk that a sharp sell-off in the market could lead to the system being whipsawed. Increased market efficiency/difficult market conditions can put pressure on a system like this because of it's low frequency.
It's for this reason that the system is best suited to markets where there are good probabilities of further upward price movement. The system has proven itself to be very effective at profiting from such trends.
Even so, you will want to test the system for yourself on paper and you may want to experiment with different settings and parameters. You may want to optimise the system on a regular basis, stress test the system further and get comfortable with how it works.
If you have Amibroker, you can download the code here. Note that the file has been provided in zip format for security reasons.
Enhancing Returns
Some of you may be wondering whether such a simple system as described here is worth pursuing.
Perhaps you were expecting me to show you a system that returns 30%, 50%, or even 100% per year?
It's worth remembering that this system has been run on a lot of data and has proven to be a strong performer in trending markets. In 2013, for example, it produced a 56% return. Not bad at all.

Unfortunately, my experience is that medium to long-term systems like this one are rarely able to produce annualised returns much better than 12%-16% per annum over the very long term. US markets are just too developed and efficient.
I have found that trend following systems that promise much more than this range our usually over-optimised on the historical data and therefore have little chance of reproducing those gains in future years.
Fortunately, however, there are ways in which we can enhance our returns.
The first is to look at making improvements to the system itself.
Can we trade it on less developed markets such as foreign markets or smaller cap stocks?
Can we improve the ranking mechanism?
Can we look at sector diversification?
Can we add our own experience so that we can work alongside the model?
The second way is to recognise the strengths and weaknesses of this system and combine it with other strategies to improve overall performance.
By including shorter-term, less correlated strategies it is possible to greatly enhance our overall returns without taking on additional risk.
Marwood Research
This simple system that I have shared with you today is in fact very similar to one of the six systems described in the course Hedge Fund Trading Systems Part One which is part of Marwood Research.
Our program Marwood Research now consists of 12 premium courses and more than 25 complete trading strategies that investigate a number of different themes.
The strategies are a mix of medium-term, long-term and short-term models which are perfectly suited for combination as part of an overall portfolio. In addition, we are continuously adding new material and new strategy ideas.
You can investigate more of our courses and trading strategies below.